Image

Eliminate Bed Bugs With One Treatment
Bed Bug Treatment in Louisiana
Anyone can experience a bed bug infestation. It doesn't matter how neat and tidy your home is—these pests will still burrow into your mattress, cling to your couch, and even hide behind picture frames. It's impossible to eliminate them on your own with DIY methods, but luckily you don't have to! We offer bed bug treatment in Louisiana that's tailored to your home's needs. With Terminix NOLA on your side, you'll be sleeping soundly in no time.
When you partner with our exterminators for bed bug treatment, we will:
Thoroughly inspect your home

, searching each room for signs of pests.

Personalize our approach

based on the location and severity of the infestation.

Treat with

chemical or heat treatments

, depending on which one fits your needs.
How Terminix NOLA Inspects for Bed Bugs
Their small size makes it easy for this bug to go unnoticed until you have a full-blown infestation. Their eggs are white and about the size of a pinhead, while adult insects aren't much larger. To ensure we get an accurate picture of the infestation, our bed bug exterminators in Louisiana carefully examine your home for signs of these pests, such as:
Small rust-colored stains on your mattress or bedding.

Shed skins from molting.

Egg shells or eggs.

Live nymphs or adult bed bugs.

A strong, musty odor.
Are Bed Bugs Dangerous?
Bed bugs don't carry diseases, but that doesn't mean they can't be harmful. These pests can cause dozens of small bites on any exposed skin, most often your arms and legs. Each person reacts differently to bed bug bites, so it's important to understand the severity an infestation can cause. You may not notice anything, or you might get a raised bite that swells, itches, and lasts for several days. They can also cause skin infections, problems sleeping, and difficulty relaxing.
Image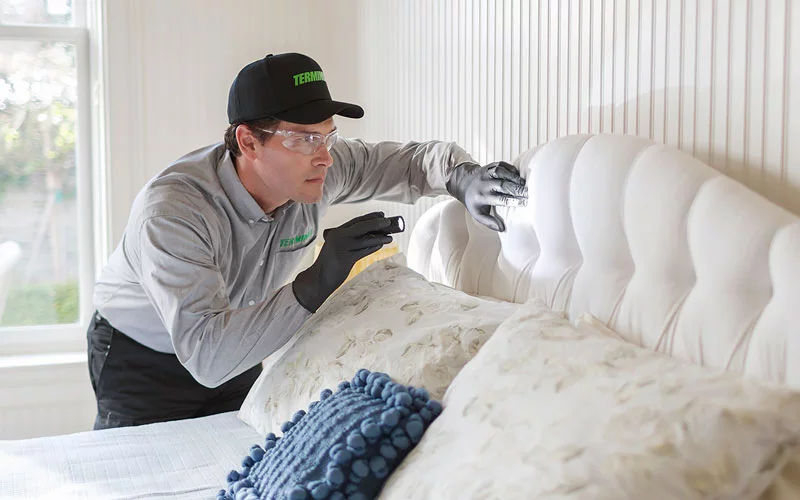 Reduced-Risk Products For Quality Care
Treating your bedrooms for pests can be stressful. To help put you at ease, our bed bug treatment in Louisiana will only use the best products available. They're reduced-risk, safe for your family, and we use them in our own homes, so you know we mean it! You should never have to choose between being careful and being bed bug-free, and with Terminix NOLA, you don't have to!
See Great Results
Instead of tossing, turning, and worrying about these pests crawling around, give us a call for bed bug treatment in Louisiana! Not only do we target the insects you can see, but we also eliminate the ones you can't. This ensures we give you the bug-free home you deserve. You don't just have to take our word for it! Our technicians will work with your schedule and will even do Saturday servicing.
Your Trusted Pest Control Provider
Areas We Service in Louisiana
For over 70 years, Terminix New Orleans has provided residents and businesses throughout NOLA peace of mind. Locally owned, our team of professionals are trained in this region and have experienced the type of pests our residents face. As your friend and neighbor, we promise you 100% total customer satisfaction.
Image