Image

Let Us Decorate Your Home For The Holidays!
Holiday Decorating in Louisiana
We will handle the lighting design, setup and take down so you can just enjoy the holidays. We will work with you to create a customized design lighting plan that enhances your property's best features. Then, we will ensure that your lighting display is installed correctly and maintained throughout the holiday season. After the holidays are over, we will remove all of the lighting and displays and store them until the next holiday.
Image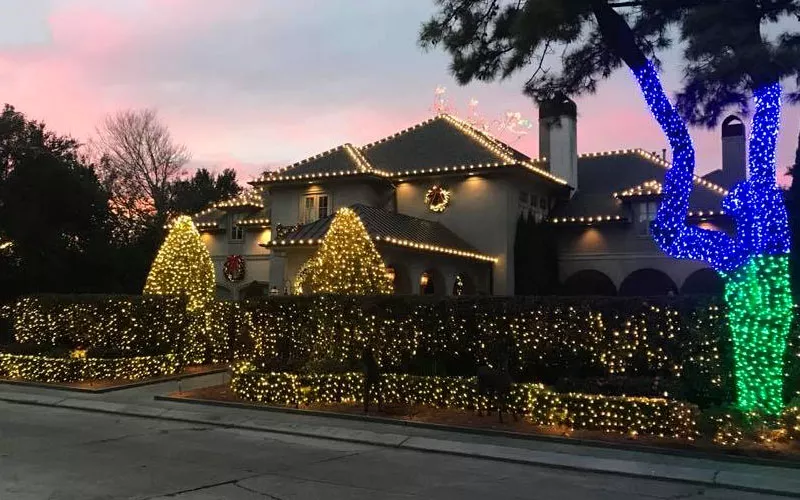 Turn Your Home or Business Into a "Winter Wonderland"
We use top quality products that incorporate the latest technology available for holiday decor. We only use LED lights that not only last longer, but also are more energy efficient than other types of lights.  We use commercial grade C-9 lights for roofs and fences that feature heavy duty SPT1 insulation for outdoor durability. We use mini LED lights that are perfect for bushes and tree wraps. We specialize in making the perfect winter wonderland that will delight your neighbors, friends and customers. The holidays are rapidly approaching so call and schedule your professional holiday decorator today!
Complete Design
Your Holiday Decor Professional will work with you to create a customized lighting design that meets your specific requests. We will layout a plan that accentuates the best features of your home or business while incorporating the latest lighting technology. We offer a variety of decorating options from blinking lights to figurines. Our goal is to make your holidays special by designing a plan that makes your home or business sparkle with cheer.
Custom Installation
Our professional installation crews handle every aspect of your holiday lighting decorations. First, we will call and schedule our lighting installations at a convenient time for the homeowner. Then, we use customized clips and fastener products combined with proper installation procedures to ensure that your property is not damaged. Last, we will maintain your lighting decoration throughout the holiday season.
Timely Takedown
We provide a complete lighting design service that includes removing and storing all of your holiday display decorations. When the holiday season is over, we will schedule a convenient time to take down your holiday decorations. We will remove all of the decorations, mark and label them, and then we will store them until you need them for the next holiday.
Your Trusted Pest Control Provider
Areas We Service in Louisiana
For over 70 years, Terminix New Orleans has provided residents and businesses throughout NOLA peace of mind. Locally owned, our team of professionals are trained in this region and have experienced the type of pests our residents face. As your friend and neighbor, we promise you 100% total customer satisfaction.
Image