Image
The Best St. Bernard Exterminators Since 1947
What kind of problem are you having? Select all that apply.
Pest Control in St. Bernard
Welcome to Terminix NOLA, your trusted local pest control service in St. Bernard! With over 76 of experience, we are committed to providing you with total customer satisfaction by tailoring our services to your individual needs. Our team of dedicated professionals takes pride in delivering high-quality solutions that are safe for your family and pets.
At [sprowt:company_name}, we offer a wide range of personalized pest control services to meet your specific requirements. Whether you are a resident or a business owner, we have got you covered. Here are some of the services we specialize in:
Residential Pest Control: Our expert technicians will help you eliminate common household pests, such as ants, spiders, roaches, and mosquitoes, ensuring a safe and comfortable living environment for you and your family.
Commercial Pest Control: We understand the importance of maintaining a pest-free workplace. Our commercial pest control services are tailored to effectively address the unique pest challenges faced by businesses in St. Bernard, providing you with a clean and professional environment.
Rodent Control: Don't let rodents invade your home or business. Our skilled exterminators will implement effective strategies to handle rodent infestations and prevent future problems.
Termite Control: Termites can cause significant damage to your property if left untreated. With our advanced techniques and technology, we will protect your home or business from these destructive pests.
Bed Bug Control: We know that dealing with bed bugs can be a nightmare. Our team is trained to identify and eliminate bed bugs, ensuring a good night's sleep for you and your loved ones.
Choose us for reliable, personalized pest control services in St. Bernard. Our commitment to excellence and our dedication to your satisfaction set us apart. Contact us today to schedule an appointment and experience the Terminix difference!
Image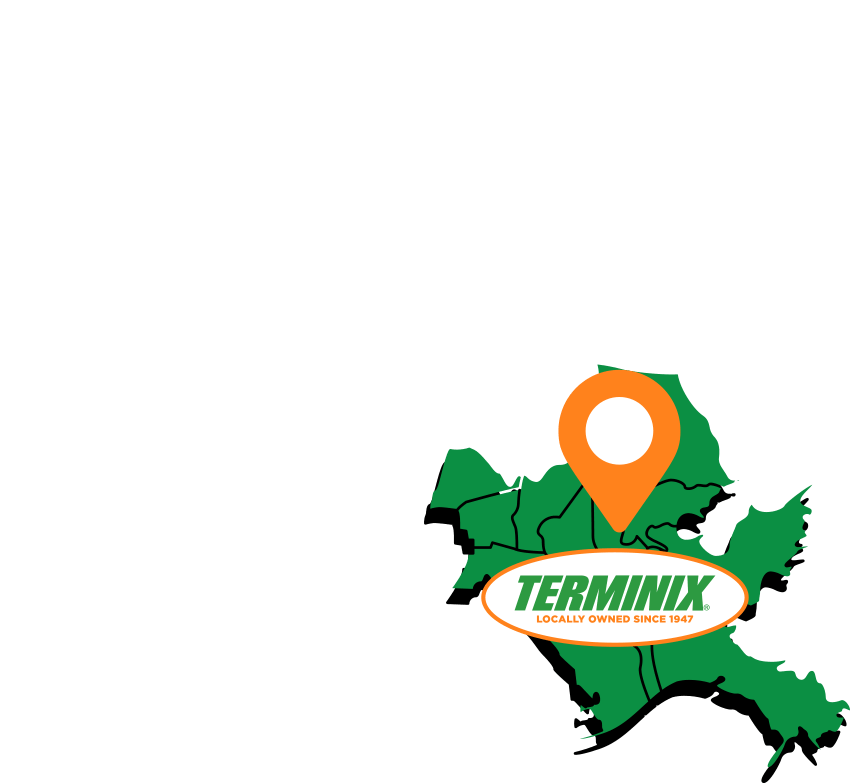 Termite Exterminators in St. Bernard
Termites are sneaky creatures that can find their way into your home through various entry points such as expansion joints, deck posts, and gaps in your siding. They are so small that they can fit through cracks as tiny as 1/32 of an inch. Once they establish a colony, getting rid of them becomes quite challenging. Instead of waiting for them to cause extensive damage and incur hefty repair bills, it's best to trust the expert exterminators at Terminix NOLA.
When you choose our termite control service in St. Bernard, Louisiana, here's what you can expect:
Comprehensive termite inspections: Our exterminators will conduct thorough inspections of your property to identify the extent of the infestation and check for any damage.
Family-and-pet-friendly treatments: Our team uses safe and effective methods to eliminate termites without causing harm to your loved ones or pets.
Ongoing control, monitoring, and prevention: We don't just treat your home once and leave. We provide continued monitoring and prevention to ensure that termites don't return in the future.
Image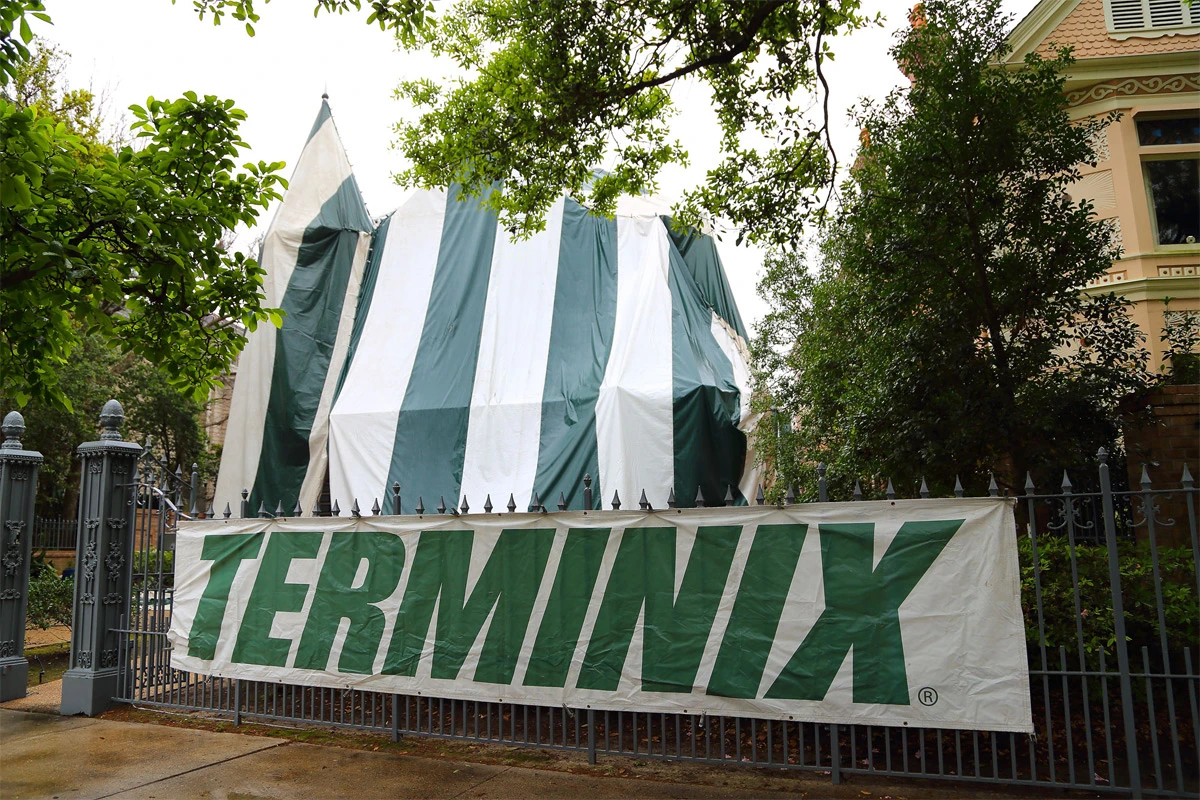 Bed Bug Exterminators in St. Bernard
Are you tired of losing sleep because of those pesky bed bugs? Look no further! At Terminix NOLA, we offer a top-notch bed bug control service in St. Bernard that is guaranteed to get rid of bed bugs and help you sleep soundly again. Here's why you should choose us:
Thorough inspection: Our professional bed bug exterminators will thoroughly inspect your home, leaving no corner unchecked. We want to make sure we have a complete understanding of the severity of the infestation in order to provide the most effective treatment.
Family-friendly bed bug treatments: We understand the importance of keeping your loved ones safe. That's why we use reduced-risk products that are safe for your family and pets. Rest easy knowing that we prioritize your family's well-being.
High-intensity heat treatment: For more severe infestations, we offer high-intensity heat treatments. This method is proven to be highly effective in killing bed bugs and their eggs, ensuring that the infestation is completely eradicated.
Guaranteed results: We stand behind our work and are committed to providing you with the best results possible. Our experienced technicians will work with your schedule to deliver exceptional service, even on Saturdays.
Don't let bed bugs invade your home and disrupt your peace of mind. Choose Terminix NOLA as your trusted bed bug exterminator in St. Bernard and experience the difference. Call us today to schedule your free inspection and take the first step towards a bug-free home. Sleep tight, knowing that we've got your back.
Rodent Control in St. Bernard
Looking for a reliable rodent control service in St. Bernard? Look no further than Terminix NOLA. We offer a comprehensive solution to your rodent problems, with a range of services designed to meet the specific needs of your home or business. Here's what our rodent service includes:
Free inspection: Our team will thoroughly inspect your property to identify any signs of activity and determine the best course of action.
Exterior rodent baiting: We will strategically place bait stations around the exterior of your property to attract and eliminate rats and mice.
Interior trapping: If rodents have already made their way inside, we will set up traps to capture and remove them from your premises.
Rodent exclusion: To prevent future infestations, we will identify and seal off any entry points that rodents may be using to gain access to your home or business.
Flexible service: Whether you need ongoing rodent control or just a one-time treatment, we can provide the level of service that suits your needs.
St. Bernard is a city that naturally attracts rats and mice due to its unique features. With its warm climate and abundance of food sources, rodents find it the perfect breeding ground. Don't let these pests take over your property. Contact our rodent exterminators in St. Bernard for fast and effective rodent control service. Don't wait until the problem gets worse. Call Terminix NOLA today to get rid of rats and mice and ensure a pest-free environment for your home or business.
Mosquito and Flea Control in St. Bernard
Are pesky mosquitoes and fleas ruining your outdoor experience in St. Bernard? Don't let these nuisance pests keep you indoors any longer. At Terminix NOLA, we are here to help you reclaim your outdoor space and enjoy mosquito and flea-free living. Our comprehensive mosquito and flea control services are designed to eliminate these pests, allowing you to make the most of your time outdoors. Here's what you can expect when you choose our services:
Free inspection: Our knowledgeable technicians will conduct a thorough inspection of your property to identify any potential mosquito and flea breeding grounds.
In2Care Mosquito Trap: We utilize the innovative In2Care Mosquito Trap, which uses odorized water to attract and eliminate egg-laying mosquitoes. This highly effective trap helps control the population and prevent future infestations.
EPA-approved liquid sprays: Our mosquito treatment solutions include the use of EPA-approved liquid sprays, which target and kill mosquitoes on contact. These sprays are safe for you and your family, yet highly effective in reducing the population.
Larvicides in targeted areas: To further eliminate breeding sites, we apply targeted larvicides to small and hard-to-reach areas where stagnant water may accumulate. By targeting the larvae, we disrupt the life cycle and prevent future generations from hatching.
Mosquito traps: In addition to our In2Care Mosquito Trap, we also offer other trapping solutions to effectively capture and eliminate these pests. Our experts will assess your property and determine the best trap placement for optimal results.
Don't let mosquitoes and fleas dictate your outdoor activities. Take back control of your space with our professional mosquito and flea control services in St. Bernard. Contact us today to schedule your free inspection and start enjoying a pest-free environment. Your outdoor paradise awaits!