Image
Get a Free Quote on Kenner Pest Control
What kind of problem are you having? Select all that apply.
Pest Control in Kenner
Pest infestations can happen almost overnight, going from a minor annoyance to an overwhelming issue. With our expert pest control in Kenner, you can forget about the DIY methods that might be tempting, but are often ineffective because they don't get to the source of the problem. Despite your hard work, bugs and rodents can and will find their way back inside. For relief that works, trust the Terminix NOLA experts to do the job right. We've been helping neighbors just like you since 1947!
Our Kenner exterminators can help with:
Ants

Cockroaches

Rodents

Spiders

Centipedes

Millipedes

Silverfish

Fleas

And more!
Image
Image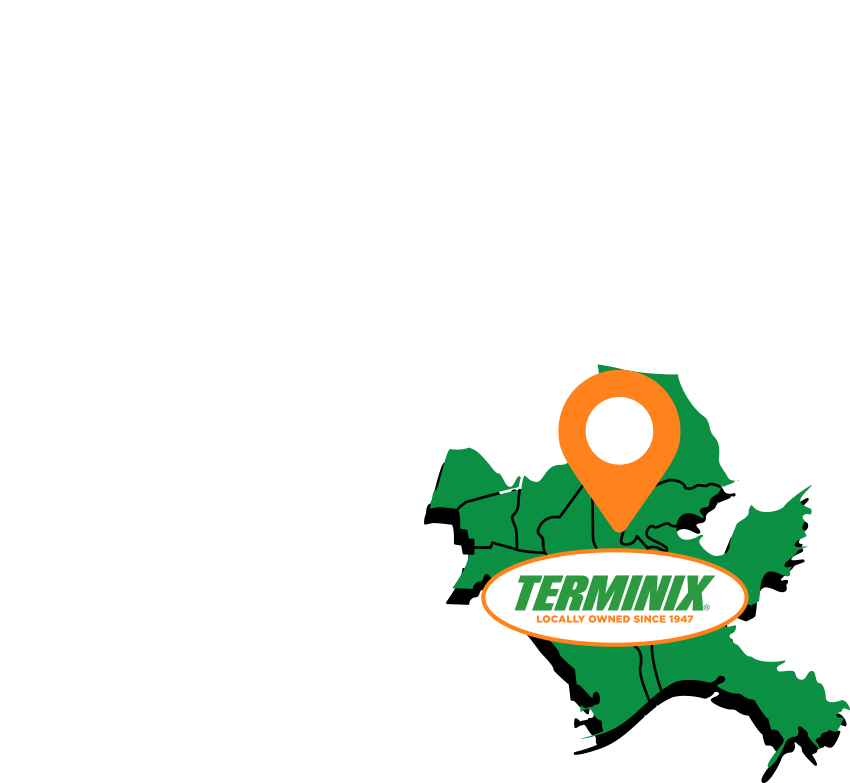 Family-Friendly Relief from Pests
With our pest control in Kenner, you can have it all! We offer effective pest prevention while using products that are safe for your family, pets, and the environment. Our reduced-risk products target insects and rodents without using harsh chemicals in your home. You can get the relief you need without having to worry.
When you choose our pest exterminators for the job, you can expect: 
Conduct a

thorough inspection

to determine how severe the infestation is.

Create a

personalized treatment plan

that meets your property's needs.

Use treatments that are both

safe and effective.

Schedule a

visit every quarter

for long-term protection from pests.
Team Up with The Experts and See Results
We're dedicated to giving you a pest-free home that you can feel comfortable in, so we'll always go the extra mile to help our customers. This includes offering friendly service, honest communication, and Saturday services. That's just one way our pest control in Kenner is the best. Not in Kenner? Our exterminators in NOLA service many different cities around the metropolitan.
Image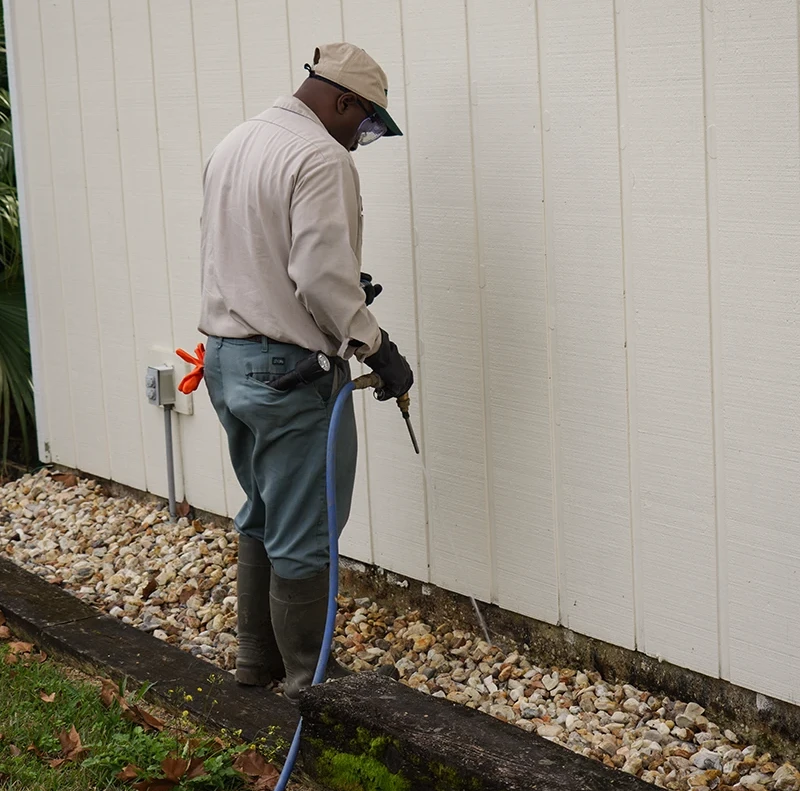 Termite Treatment in Kenner
No homeowner wants to discover they have termites, and for good reason! These infestations are difficult to detect, giving them plenty of time to eat through your home. The best way to prevent these insects from wreaking havoc is with our termite treatment in Kenner. We combine proactive and reactive treatments to give you long-term protection from these destructive pests, saving you money.
When you partner with our termite exterminators in Kenner, you'll get:
A

thorough inspection

where an exterminator looks for any signs of damage.

Custom treatment

based on our findings and your property's needs.

Effective relief using

bait stations, liquid treatments, or tenting

if necessary.

Annual inspections

 for your peace of mind.
Image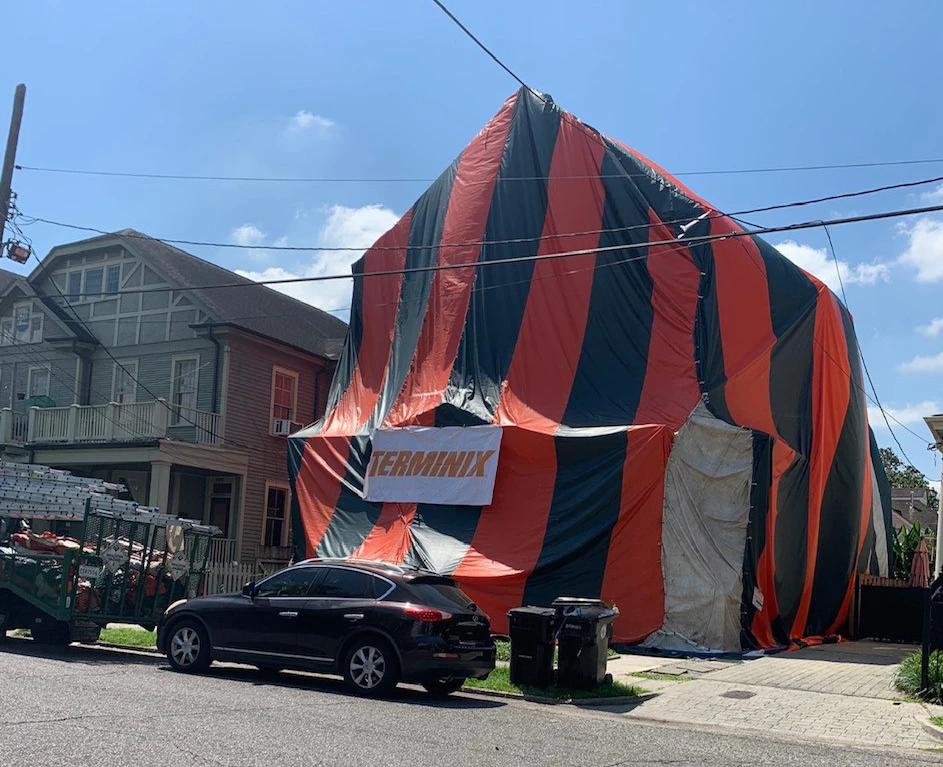 Bed Bug Treatment in Kenner
Bed bugs are small enough to hop into your luggage without you noticing, making it easy to accidentally bring them into your home. It's vital to look into bed bug treatment in Kenner because once they're inside, they can move into different rooms and infest your bed, couch, and other furniture. They can even hide behind outlet covers! To give you the total relief you deserve, trust our bed bug exterminators to do the job right. We use the best products and techniques to safely eliminate the infestation, making it feel like it never happened!
Our bed bug treatment in Kenner will provide the following: 
Inspect each room

for live bed bugs, egg shells, and other signs of a problem.

Treat with chemical applications to

target pests at their source.

Raise the temperature of your home for

family-friendly heat treatments.

Treat your luggage to

prevent an infestation before it happens.
Rodent Control in Kenner
Don't let rats and mice take over your Kenner home! Not only can these pests cause damage to your home, but they can spread dangerous diseases such as Hantavirus, Lassa Fever, Leptospirosis, and more! Our top-notch rodent control service in Kenner can eliminate these pesky critters for good. Here's what we offer:
Free rodent inspection to determine the extent of the infestation
Exterior baiting to prevent rodents from entering your property
Interior trapping to get rid of any existing rats and mice. 
Rodent exclusion to prevent future invasions
Recurring or one-time service options to fit your needs
Kenner, with its humid climate and abundance of food sources, is a magnet for rats and mice. But with our expert rodent exterminators in Kenner, you don't have to suffer. We'll get rid of these pests for good and create a safe, clean environment for you and your family. Don't wait - call us today for top-notch rodent removal.
Mosquito & Flea Control in Kenner
Are pesky mosquitoes and fleas ruining your time outdoors in Kenner? Look no further than our expert mosquito and flea prevention services. Our team at Terminix NOLA offers top-notch solutions to tackle these parasites so that you can enjoy your time outside worry-free.
Here's what you can expect from our mosquito and flea control in Kenner:
A complimentary inspection to assess your property's needs
Fogging to eliminate adult mosquitoes and fleas
EPA-approved liquid sprays to target breeding areas
Larvicides to eliminate mosquito larvae in hard-to-reach areas
Traps to attract and capture these pests
Kenner's warm climate and geography make it the perfect breeding ground for mosquitoes and fleas. Don't let these pests ruin your outdoor activities. Our mosquito and flea prevention techniques are designed to keep them away from your property, so you can enjoy your time outside without worry.