Image
Family-Friendly Exterminators in Algiers
What kind of problem are you having? Select all that apply.
Pest Control in Algiers
Step into a pest-free paradise with Terminix NOLA's pest control services in Algiers! Our team of experienced experts has been keeping unwanted critters at bay for 76 and counting. We understand that living in Algiers means dealing with unique pest challenges due to the climate. That's why our team of certified exterminators is dedicated to offering tailored solutions to residential and commercial properties in the area. Here are the pest control services we offer:
Residential Pest Control: Our experts will safeguard your home from unwanted pests, including ants, spiders, roaches, and more. We use reduced-risk products that are safe for your family and pets.
Commercial Pest Control: We provide comprehensive pest management solutions for businesses of all sizes. Our team will work with you to develop a customized plan that meets your specific needs and ensures a pest-free environment.
Rodent Control: Put an end to the damage and health risks posed by rodents with our effective rodent control services. We will identify and eliminate any infestation while taking measures to prevent future occurrences.
Termite Control: Protect your property from the silent destroyers with our advanced termite treatments. Our termite extermination methods are designed to eliminate these pests and prevent further damage to your home.
Bed Bug Control: If you're dealing with a bed bug infestation, our specialists are here to help. We utilize innovative techniques and treatments to eradicate bed bugs and ensure a peaceful night's sleep.
And More: Our services extend beyond the mentioned categories. Whether you're dealing with mosquitoes, fleas, ticks, or any other pests, we have the expertise to handle it.
Family-Friendly Pest Control in Algiers
At Terminix NOLA, we prioritize the safety of your family, pets, and the environment. Our reduced-risk products and family-friendly treatments deliver effective results without compromising on safety. Contact our team of dedicated professionals today for a free estimate.
Image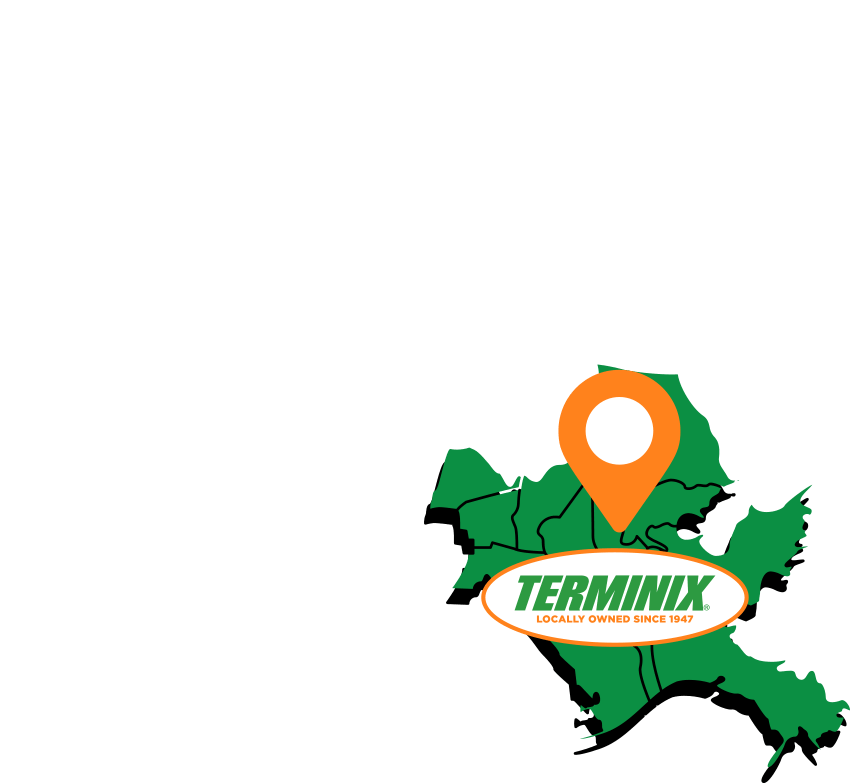 Bed Bug Exterminators in Algiers
Don't let bed bugs disrupt your sleep and invade your home. At Terminix NOLA, we offer effective bed bug treatment in Algiers that is tailored to your needs. With our expert exterminators on your side, you can finally get rid of these pests and enjoy a peaceful night's sleep. Here's what our service includes:
Free Inspection: Our expert bed bug exterminators will thoroughly examine your home, leaving no corner unturned. We'll identify the signs of infestation and provide an accurate picture of the problem.
Family-Friendly Treatments: Rest easy knowing that our treatments are safe for your family. We use reduced-risk products that are effective yet gentle, ensuring your loved ones are protected.
High-Intensity Heat Treatment: Say goodbye to bed bugs with our state-of-the-art heat treatment. This powerful method eliminates bed bugs and their eggs, leaving your home bug-free.
Get Rid of Bed Bugs for Good: Don't settle for temporary solutions. Our comprehensive approach ensures that we not only target the visible pests but also tackle hidden infestations. You'll enjoy a bug-free home that you deserve.
Flexible Bed Bug Control in Algiers
When it comes to bed bug treatments, trust the experts at Terminix NOLA. We understand the stress and discomfort that these pests can cause, which is why our dedicated technicians will work with your schedule. You can even schedule a Saturday servicing for your convenience.
Don't let bed bugs disrupt your sleep any longer. Contact us today and experience the relief of a pest-free home. You deserve a good night's sleep, and we're here to make it happen.
Termite Exterminators in Algiers
Discover the ultimate termite solution in Algiers with our termite treatments that guarantee effective results. Our experienced exterminators use a combination of proven methods to get rid of termites and provide long-term protection. With over 70 years of experience in the industry, we have the expertise to handle any infestation. Our termite control service includes:
Comprehensive inspections: We start each service with a thorough inspection to assess the extent of the infestation and identify any damage.
Family-and-pet-friendly treatments: We use safe and effective methods to eliminate termites without putting your loved ones at risk.
Ongoing control, monitoring, and prevention: Our team will regularly inspect your property and implement preventative measures to ensure that termites stay away.
The Latest in Termite Control Technology
At Terminix NOLA, we are proud to offer the Sentricon system, a proven and effective method for termite control. This advanced system utilizes bait stations to eliminate termites and prevent future infestations. With our comprehensive inspections and ongoing monitoring, you can have peace of mind knowing that your home is protected from these destructive pests.
Don't wait until the damage is already done – get rid of termites and protect your investment with our termite treatment in Algiers. Contact us today to schedule your free inspection and take the first step towards a termite-free home.
Image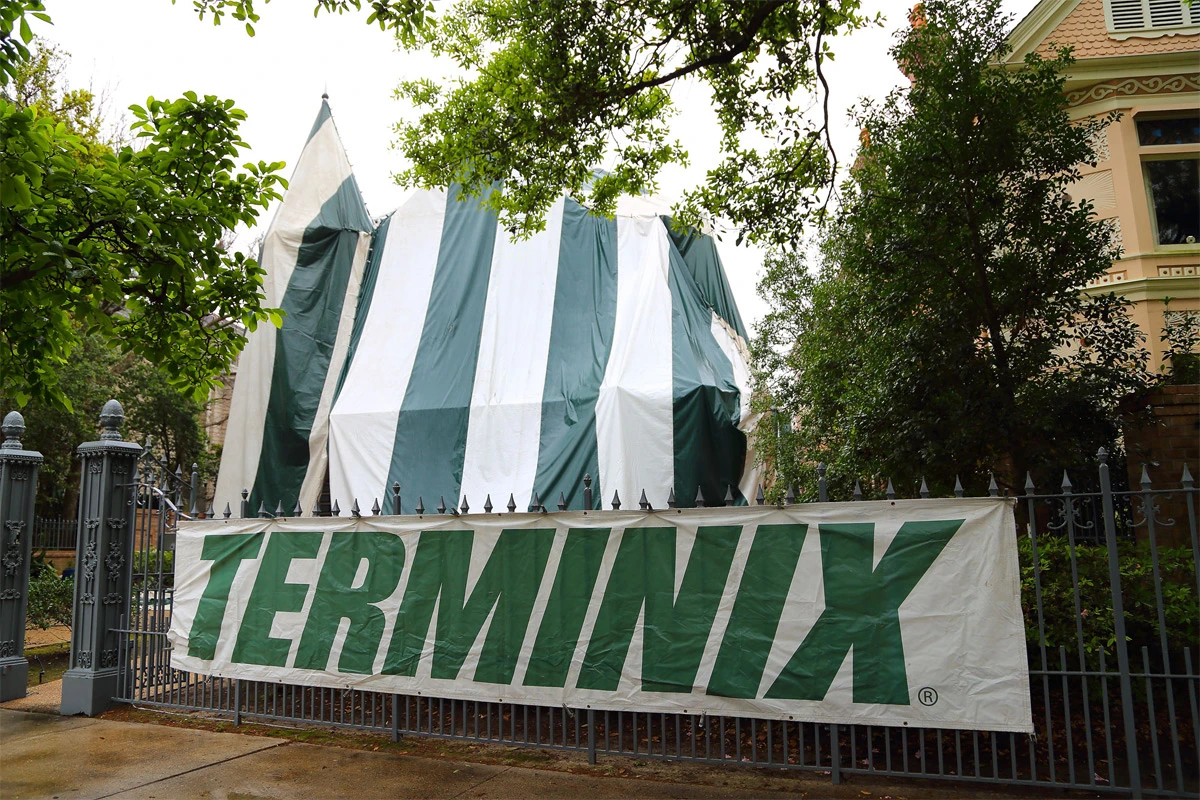 Mosquito Exterminators in Algiers
Algiers, a beautiful area with its own unique climate and geography, unfortunately, is not immune to the annoyance and danger of mosquitoes. These pesky pests can quickly ruin any outdoor activity and pose a threat to the health and well-being of you and your family. But fear not, because Terminix NOLA is here to offer you the ultimate solution for mosquito or flea control in Algiers. With our expertise and innovative approach, we can help you reclaim your outdoor space and enjoy a pest-free environment. Here's what you can expect when you choose our services:
Free inspection: Our knowledgeable technicians will conduct a thorough inspection of your property to identify any existing mosquito or flea problems and determine the best course of action.
In2Care Traps: Our exclusive dual-action In2Care Mosquito Trap utilizes an odorized water attractant to lure egg-laying mosquitoes. Once inside the trap, a biological control agent sticks to their legs, eliminating not only the trapped mosquitoes but also those they come into contact with later.
EPA-approved liquid sprays: We utilize safe and effective liquid sprays that specifically target mosquitoes, ensuring their quick elimination and preventing future infestations.
Larvicides in targeted areas: In addition to adult mosquito control, we also focus on eliminating larvae in small and hard-to-find areas. Our larvicides are EPA-approved and recommended by the World Health Organization, providing you with peace of mind.
Mosquito traps: As part of our comprehensive mosquito control plan, we offer the option to utilize mosquito traps. These traps are strategically placed to attract and capture mosquitoes, reducing their population and minimizing the risk of bites.
Rodent Control in Algiers
If you live in Algiers and are dealing with a rodent infestation, Terminix NOLA has the solution for you. Our rodent control service offers comprehensive and effective solutions designed to meet the specific needs of your home or business. Here are the key features of our rodent service in Algiers:
Free Inspection: Our highly skilled rodent exterminators will conduct a detailed inspection of your property to identify areas where rats and mice are active and gaining entry.
Exterior Baiting: We will strategically place bait stations around the exterior of your property to effectively control and eliminate rodent populations.
Interior Trapping: Our trained professionals will set up traps inside your home or business to catch any rodents that have made their way inside.
Rodent Exclusion: We will identify and seal any entry points that rats and mice may be using to gain access to your property, preventing future infestations.
Recurring or One-Time Service: We offer ongoing rodent control service to ensure that your home or business remains rodent-free. Alternatively, we also provide one-time service for immediate removal of rats and mice.
Algiers, with its urban environment and proximity to waterways, naturally attracts rats and mice. These pests can carry harmful diseases and cause significant damage to your property. That's why it's essential to take preventive measures and get rid of them as soon as possible.
Don't wait for your problem to escalate. Call our team for rodent control services today. Let us protect your home or business and provide you with peace of mind.