Image

Managing Rodents for Over 70 Years
Rodent Control in Louisiana
If you see signs of a rodent infestation, whether in your home or place of business, Terminix NOLA has the solution. With Saturday servicing available, you never have to wait to keep your family safe. Our skilled rodent exterminators will develop a comprehensive and effective solution designed to meet the specific needs of your home or business. We start with a detailed inspection of your property to determine if and where mice and rats are active, where they are gaining entry and what conditions may contribute to the infestation. 
Our rodent control in Louisiana will include: 
Over 60 years of pest control experience. 

Convenient scheduling, including same-day and Saturday services.

Highly trained professionals with industry-specific expertise in pest control.

Experienced technical support team that answers calls 24/7.

Use of reduced-risk products safe for your family and pets.
Signs of a Rodent Infestation
Suspect mice or rats have invaded your home or business but aren't sure? Due to their mostly nocturnal nature, they are often hard to detect, but there are a number of signs you can watch for that may indicate rodents are present. You may have a mouse or rat infestation if you notice: 
Droppings of fecal matter

, small and round, especially around food sources.

Gnaw marks

on boxes, walls, or on food packages.

Holes in

food containers or cardboard.

Greasy marks

left on walls or other surfaces.

Finding material often used for nesting, such as

fabric, shredded paper, and dried plants.

Hearing

scratching coming from inside the walls. 
If you notice any or several of the signs listed above and think rats and mice are infesting your home, don't wait or take measures into your own hands. It's best to call a technician for rodent control in Louisiana. Terminix Nola's team of highly skilled rodent exterminators will start with a home inspection followed up with an effective solution.
Sanitation, Exclusion, and Prevention
As one of the world's leading pest control companies, Terminix NOLA provides protection from the harmful diseases and bacteria rats, mice, and other rodents carry. Our rodent exterminators want to ensure your home or business is free from the damage these menacing animals can cause. To accomplish this, our highly effective treatment plan includes the following essential components:
Sanitation recommendations 
Eliminating all trash and debris.

Ensuring all trash receptacles and dumpsters are completely sealed.

Sealing up any storage containers with food or cardboard material.

Arranging for proper mowing of tall weeds and grass near home or business.
Exclusion and Prevention Recommendations
At Terminix NOLA, we believe that a well-designed preventive program is key to minimizing rodent invasions. That's why our team will work with you to design a customized rodent prevention plan. Some of these measures may include:
Covering vents with a tight-fitting piece of 1/4″ hardware cloth.

Securing gaps around loose pipes and other wall intrusions.

Adding metal kick plates to exterior doors to keep rodents from gnawing through the corners.

Applying tight weather stripping to the bottoms and sides of all doors.

Use of traps and bait stations customized to fit the needs of your home or business. 
Image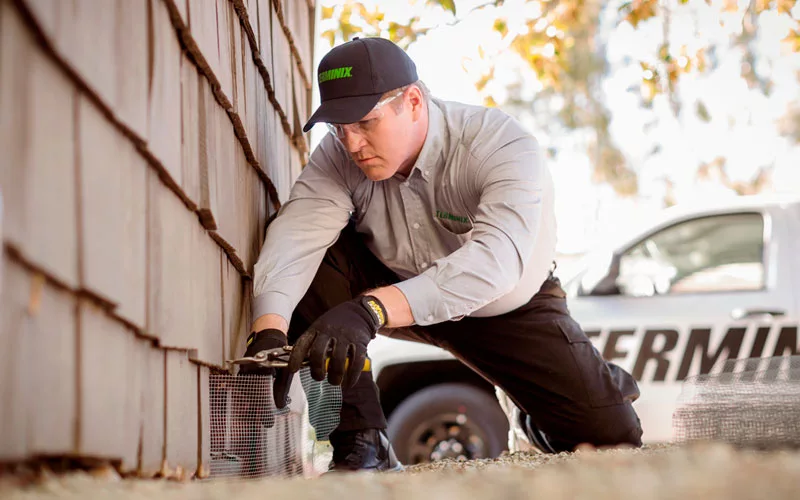 Fast, Effective Solutions
Some mice may look cute and furry, but they carry harmful diseases and can cause mass destruction in your home. If you believe you have an infestation, call Terminix NOLA for rodent control in Louisiana. With reduced-risk products, you never have to wait to receive fast, effective service. Because the sooner you act, the sooner we can eliminate the problem.
Your Trusted Pest Control Provider
Areas We Service in Louisiana
For over 70 years, Terminix New Orleans has provided residents and businesses throughout NOLA peace of mind. Locally owned, our team of professionals are trained in this region and have experienced the type of pests our residents face. As your friend and neighbor, we promise you 100% total customer satisfaction.
Image